Australia fires: The thousands of volunteers fighting the flames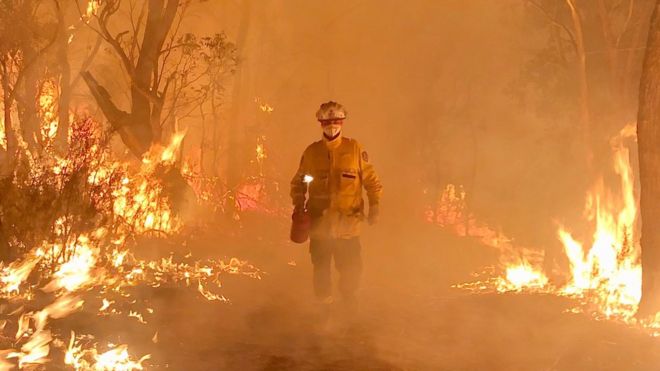 "We're doing it because it's a passion. It's a brotherhood," says Daniel Knox.
"When that photo was taken of me, I had done a 15-hour shift out there."
He is one of thousands of Australians who've dropped their ordinary lives to battle the nation's raging fire crisis.
For weeks, the 22-year-old landscaper has lived around his phone, springing into action when called upon.
He is part of the New South Wales Rural Fire Service (NSW RFS) which calls itself "the world's largest volunteer firefighting organisation". Its 70,000 members are extensively trained and, except for a few senior staff, mostly unpaid.
Mr Knox joined his local brigade in Sydney's south-west five years ago, when he was 17. He bonded with a senior member - Andrew O'Dwyer - over football and photography.
"He took me under his wing, looked after me and helped me out so much. The respect he gave me, a young bloke, even when I made mistakes... he was my brother," he told the BBC.
Last Thursday, Mr O'Dwyer and Geoffrey Keaton, the deputy captain at the Horsley Park Fire Brigade, were sent out late at night to a massive firefront.