Huawei: Trouble overseas but boom time in China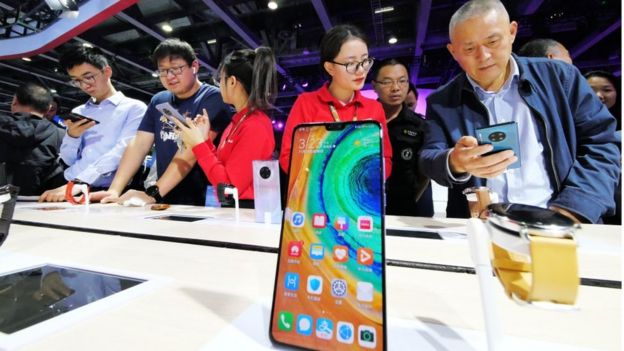 Jun Yu can't resist gadgets.
More than 20 smartphones, old tablets and other devices lurk in a corner of his Beijing home - an ever-growing tech junkyard.
His apartment also boasts a Google Home smart assistant and an Amazon Echo.
"I take three phones out with me every day. I use a phone for Chinese apps, I use my iPhone for Gmail and western apps, and I use my Google Pixel phone for work," says the 34-year-old tech entrepreneur.
His obsession has paid off though. In 2009, he bought the first phone to use Android, the software that now runs more than 80% of smartphones.
A year later, the physics graduate, founded his own company creating content for Chinese Android users. By 2016 he had sold the company for an undisclosed amount to Alibaba, the Chinese e-commerce giant.
Now he is excited about the next generation of technology, known as 5G. It promises lightning fast internet connections for your mobile phone - fast enough to download movies in a matter of seconds, or to stream high definition TV.
In October, Jun Yu pre-ordered a 5G-ready smartphone, made by China's Xiaomi.
"4G has enabled many things like mobile video, more immersive gaming. I know 5G will too. But I don't exactly know how yet," he says.
But in the US and UK the rollout of 5G networks has been hampered by an international row over one of the most important suppliers of 5G equipment, China's Huawei.